Hello, my name is Michael Yu and I am the Owner and Chief Instructor of KicksUSA Martial Arts Studio and Center. I have been training my entire career here at the KicksUSA martial arts studio. I started training in 1998 at the age of 42. Little did I know then that I would wind up becoming the owner and chief instructor of this school.
I am currently a 4th Dan Black Belt, having earned that honor in April of 2010, under the guidance of my Master Instructor KJN Greg Garcia. My original Master Instructor, BKJN Ricardo Oliveria, had sold the school to me and I opened the door as the Owner and Chief Instructor on January 1st 2007.
Besides myself, I have one other instructor who helps me teach our classes. Benett Sharp, who is a 3rd Dan Black Belt, teaches one of my Adult classes. I teach the other 18 classes that are offered here at our martial arts studio.
In addition to group classes, KicksUSA offers private instruction for those students who don't fit into the regular class schedule, prefer 1-to-1 instruction, or have special needs that need to be adapted to.
If there is anything else that you would like to know about me or the school, please drop us a note at mike@kicksusatkd.com or give us a call at (925) 426-3787.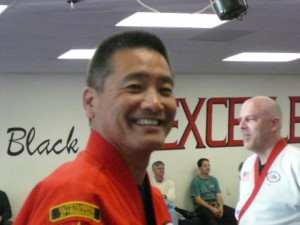 Michael H. Yu
Owner & Chief Instructor
KicksUSA Martial Arts Center
Pleasanton, CA 94566